FAQ's
1. How can I buy your products?
If you are a washroom service company or distributor, you can place an order by email or by phone. If you are an end user, contact us and we will refer you to one of our distributors.
2. What is your lead time?
We keep stock of all our washroom products (air freshener dispensers, deodoriser dispenser, refills, urinal mats and sanitary bins) which means we can ship your order within 1-2 days after this has been placed.
Vending machines are built per order, as they require to be adapted for each client's product configuration. The washoom vending machines have a lead time of approximately two weeks.
3. Can the products be customised?
Yes, UH offers a wide range of customisable options in all our products, from standard corporate logo to personalised vinyl wrap.
Standard options: our washroom and vending dispensers can incorporate your company logo. Air fresheners and deodoriser dispensers have a branding area for your logo which is protected with a polycarbonate lens. The vending covers can be also customised.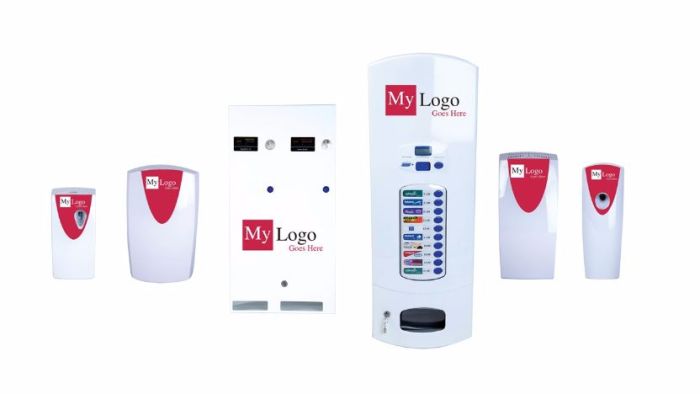 Premium customisable options (to consult prices):
Screen printing: Your logo can be screen printed on the following products: Sanair, Puresan, Microair, Puress, Purescreen, Sanibin and Maxibin.
Vinyl wrap: vending machines can be customised with a front or full wrap vinyl. We offer set up designs for Autovend, Trivend and Multivend, however our graphic designer can create your own vinyl with an additional cost.
4. Do you require a MOQ?
The only product which is subject to a minimum order quantity is the Maxibin and premium coloured dispensers, the rest can be ordered in different quantities. The Maxibin requires a minimum order of 250 units.
5. What are your transport costs?
Transport costs for UK:
Posting costs is £5.
Orders worth less than £249 have a transport cost of £10.
Orders between £250 and £499 have a transport cost of £25.
Orders between £500 and £749 have a transport cost of £50.
Orders over £750 include transport FOC.
Transport costs in EU:
Orders over €3000/€5000 are shipped FOC, depending on the
destination. ( See map below)
Orders under €3000/€5000 will be quoted.
Rest of World will be quoted based on courier cost.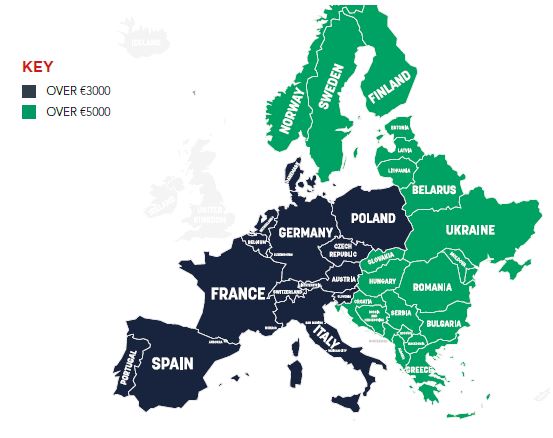 6. Are your machines adapted to read the new pound coin?
Multivends and Autovends purchased from January 2016 are already adapted to read the new pound coin. If the machines were purchased before 2016, they will need to be converted.
7. What products can I configure the machines for?
Unicorn Hygienics has created standard configurations for each machine based on our vast experience in the industry. This takes the guesswork out of customer ordering. The product configurations have been thoughtfully set up to meet end user's needs, depending on the target audience and the location of the washroom.
However, other products can be configured in our machines as long as these come boxed and the dimensions are within the maximum and minimum box size requirement (see below). We highly recommend contacting our team for advice on specific configurations.
Autovend
Minimum: 75mm x 45mm x 10mm
Maximum: 130mm x 75mm x 38mm
Multivend
Minimum: 15mm x 45mm x 60mm
Maximum: 42mm x 90mm x 135mm
8. Can I change consumables on my own after purchasing the machine?
Yes, you can change the product configuration in your machines, however there are a few things to bear in mind:
Change products in the Multivend: we have training videos at your disposal which explain how to adjust shelves, change prices and change product cards. The adjustments can be easily done and only require the additional cost of purchasing a new product card/label.
Change product in a Autovend: please contact us and we will help you adapting the Autovend for other products and prices.
9. Warranty
Unicorn Hygienics products are guaranteed to function in accordance with their standard product technical specification for a period of 1 year for all products, from the date of purchase.
This warranty does not cover:
Consequential loss or damage
Vandalism or misuse
Improper or inappropriate modification or maintenance
The vending of products other than those expressly approved by Unicorn Hygienics.
The use of other refills in the air freshener or deodoriser dispensers not approved by Unicorn Hygienics.

No variations of these conditions can be accepted unless previously agreed in writing.

This warranty does not affect your statutory rights. In all matters of interpretation reference will be made according to the law in Northern Ireland.

In the event of a dispenser becoming faulty after expiry of the warranty period, replacement parts may be obtained from the factory. Alternatively, the complete dispenser may be returned to Unicorn Hygienics for refurbishment to the current build standard – please contact the company for further details.
10. Return Policy
1. Please inform the sales office at your earliest opportunity, by either email (info@unicorn-hygienics.com) or telephone (+44 (0) 28 9264 0827)

2. Wherever possible please state our order number in all correspondence, but as a minimum please have the delivery
address and contact details of the customer concerned.

3. Once the defective goods have been identified and the cause of the damage / defect has been ratified *, Unicorn will contact the respective customer and arrange collection of the faulty goods.

4. We will, as a matter of course offer a full repair or replacement dependent on the most convenient and appropriate course of action.

5. We aim to replace the goods on return of the original faulty goods or arrange a credit note depending on the customer requirements.

* we need info on what is wrong with the product inc photos and description, video if applicable

For any products needing to be returned because they are not suitable, the following terms will apply:
Unicorn must be informed within 14 days from date of Invoice.
Goods will adhere to a returns and admin charge of 10% of the items value (A minimum fee of £20 will be applied).
The items must be returned to Unicorn at your expense. If Unicorn is required to collect the goods, we will deduct the transport cost from the amount credited to you.
Returned items will be subject to inspection and must be received in a
condition suitable for resale in order for the return to be accepted.
If there were any transport costs on the original invoice when sending the goods, this will not be credited.
For goods which have company branding (i.e. screen printing or vinyl print) Unicorn reserve the right to refuse returns.
11. Do you have recommended selling prices for the consumables?
Yes. Unicorn Hygienics has created a list of recommended selling prices for all our consumables based on our experience in the market. However, this list is only a guide based on general market trends so customers can set up their own prices regardless.
12. Can I change the selling prices in the machines?
Yes. See question number 8.
13. Are all your machines battery operated?
Yes, all our machines are self-powered and operate on long life batteries. The batteries can last from 6 months to 2 years depending on use.
14. Can you deliver to any country in Europe/other?
Yes, we have a transport department team who exclusively arrange transport for all our clients. We have experience exporting our products worldwide. See question number 4 for transport costs.
15. Are the manuals available in different languages?
Our manuals are currently available in Spanish and English. However, we are a multilingual team who can provide service in English, Spanish, French, German and Portuguese.
16. Can the machines be configured for any currency?
Yes. If we haven't configured a machine for a currency before, we will need some updated coins to be sent to our facilities in order to program the machines for that currency.
17. Can the currency be changed after the purchase?
The Autovend can be changed, however new parts might be required or replaced.
Multivends purchased from January 2019, a new coin acceptor will be required.
Multivends purchased before January 2019 can be modified, contact us to obtain instructions in how to do this.
Please contact us for further information and technical support.
18. Will the machines include an installation manual?
We have installation manuals for all products, digital copies can be sent via email upon request or accessed directly from our Customer Portal.
16. Is it possible for us to visit the factory?
We like encouraging our customers to come to visit us in Northern Ireland in our headquarters and industrial facilities.
17. Can we go to get training on the vending machines?
Yes. We can provide training sessions on our site. Talk to our team for more information and to check the availability.
18. Do you sell refurbished machines?
No, Unicorn Hygienics only provide new brand machines built per order.
19. Do you repair machines? What is the cost of it?
Yes, we do repair machines. If the machine is under warranty the machine will be repaired at no cost. Otherwise, we will first asses the work that needs done and send a quote. No work will be done until the quote has been approved.
20. Can the Multivend be connected in the computer and be managed with a software?
Yes, it can. Please speak to our team for more information.
21. Can I sell nappies in the machines or does it have to be a nappy vending machine?
You can only sell nappies in a Multivend as the box size is too big for the Autovend or Trivend. You can configure the Multivend (9 buttons vending machine) to sell nappies as well as other products. However, as the nappies take more space in the machine due to the box size, then the number of other products that you could configure the machines for would be reduced.
Therefore, we have our Nappyvend which looks and works the same as the Multivend but with an especial product configuration. The Nappyvend offers 3 nappy sizes and only 6 buttons instead of 9.
22. Do you supply spare parts?
Yes, we do. We can supply spare parts for all our products. Please contact us to request the spare parts pricelist.
23. Do you go to any shows?
Yes, we have been exhibiting at Interclean Amsterdam for years and we will continue to do so.