Powerful things come in small packages
Intensify the fragrance of your Sanair
How can you enhance your Sanair and make it an ultimate solution against malodours?
Summer is nearly here and it is well known that higher temperatures increase maloudours. This is why we encourage you to give your Sanair a boost and intensify the fragrance by adding a non-aerosol aircare refill.
The Booster is a 75ml refill designed to be exclusively used in conjunction with our revolutionary Sanair Dispenser. However, to understand the functionality of the Booster, first we need to talk through how the Sanair dispenser works.
As opposed to other deodorising dispensers which only work as cleaners and deodorisers for urinals and WCs, Sanair consists of an open system with a wick that allows the fluid to be continuously evaporated into the air as well as dispensed into the toilets. As a result, this offers both air care and urinal/WC disinfectant solutions by only using a 610ml refill, this is the reason why Sanair is a best seller in many countries.
The good news is that this does not end here. To provide advanced and upgraded solutions to our customers, we developed an extra refill, the Booster which can be incorporated into the Sanair dispenser. This is a non-aerosol refill that has been formulated with three fragrances to match the 610ml Sanair refill.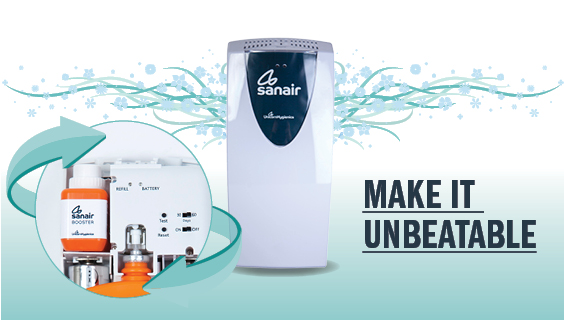 How does the Booster work?
The Booster helps intensify the fragrance and create even a more pleasant ambiance. In addition, it has a more concentrated formula meant to effectively counteract malodours and replace them with the desired fragrance. The Booster is fitted in a cubicle inside the dispenser and operates with an extra wick that consistently delivers fragrance through the vends on the cover.
If you have already discovered the benefits of using the Sanair dispenser, we encourage you to incorporate the Booster and check the amazing results. On the other hand, if you haven't experienced the benefits of our revolutionary dispenser yet, please feel free to talk to our team who will be delighted to help.