Complete Washroom Experience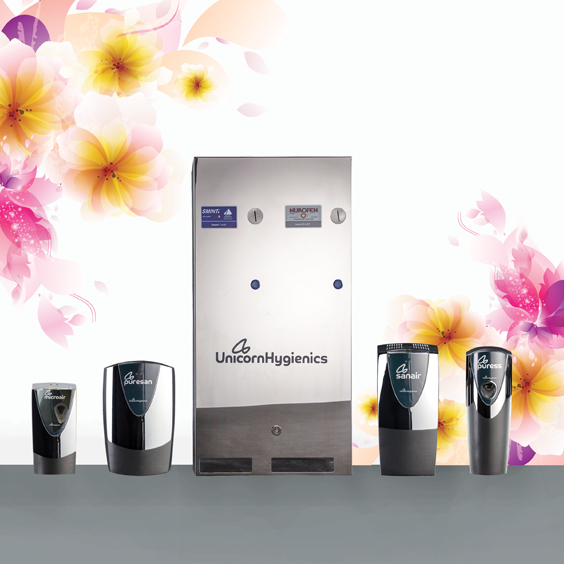 Cleanliness, freshness, design and practicality
Having a complete washroom experience is not only about providing cleanliness, but a coordinated product range which creates an attractive atmosphere that wakens your senses and cares about customer's satisfaction.
Unicorn Hygienics' entire product range is designed to exceed end users' expectations by providing fragrance consistency, stylish finishes across all the products and intelligent vending solutions.
Intensifying and matching the perfume of your dispensers is possible with Unicorn Hygienics' urinal mats (Purescreen), cleaner & deodoriser (Puresan & Sanair) and air freshener systems (Microair and Puress), with all dispensers' refills being available in the same 13 fragrances. In addition, design consistency is offered by obtaining all your dispensers, including vending machines, in the same elegant finishes to create a positive visual impact, thus upgrading any washroom look.
What role does washroom vending play in this complete washroom experience?
Apart from adding an extra value to the service you provide, vending washrooms systems can make the difference in your customer's day. Going to an interview and have a ladder in your tights? Forgot to bring tampons or sanitary towels? Period pain and no Paracetamol in your handbag? Going on a date and forgot to wear deodorant? Unicorn Hygienics manufacture the leading washroom vending machines in the market which are perfectly configured to suit all washroom environment requirements. Offering these solutions will ensure your clients will be forever thankful.
Contact us to design your own washroom experience in info@unicorn-hygienics.com.